It doesn't get better than this in Cliffside Park!
Welcome to Apogee! We proudly present our listing at 250 Gorge Road Apt 26J in Cliffside Park.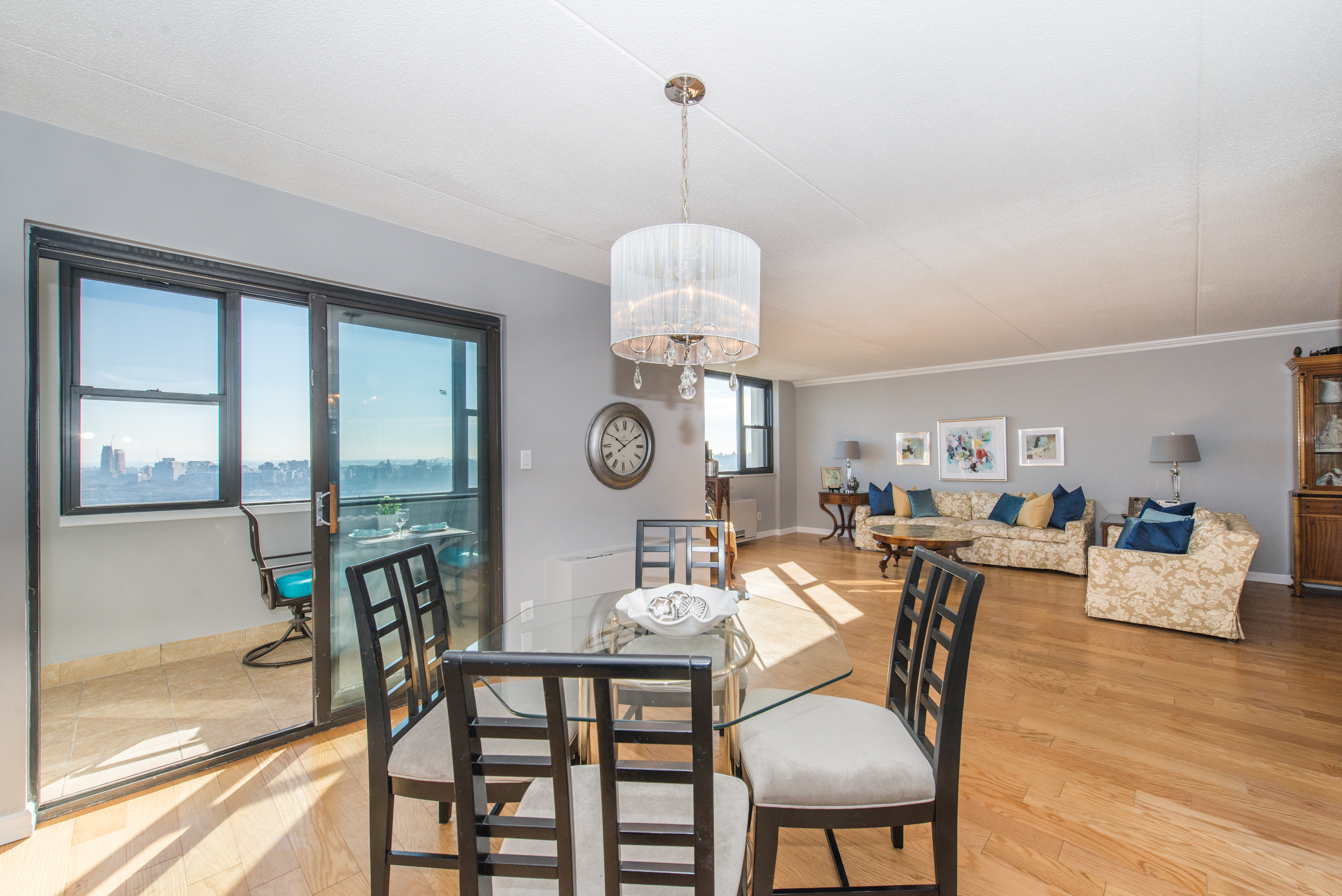 Who wouldn't love waking up to breathtaking views of the Hudson River or a stunning view of the NYC Skyline? Or in the evening, to see the cool river flowing among twinkling lights?
I can't think of anyone who wouldn't!
We just made a HUGE PRICE REDUCTION on this stunning 1646 Sq Ft Living Space with 26TH FLOOR Panoramic Unobstructed View of Hudson River/NYC Skyline. 3 Bedroom 2 Bath PRIVATE RENOVATED END UNIT. This is the creme de la creme of units in this Upscale Full Service Luxury Bldg.
Just steps from NYC trans, shopping, restaurants,The Apogee a 30-story Luxury Coop just completed a Multi Million $$ Renovation becoming a Chic Sophisticated Community incl. 24 hr Doorman, Fitness Center,Yoga/Pilates Studio, Olympic Size Pool, Jacuzzi, Tennis This Updated Unit has Marble entry and baths, Kitchen with Stainless Steel Appliances, Breakfast Bar. Open Floor Plan, Huge rooms including oversize living room and dining room, Terrace, 18 x 14 King Size Master Bedroom Retreat with 2 Walk In closets and a spectacular Master Bath.
Maintenance includes Taxes (53% deductible) Cable, internet and Water. Jitney to NY Waterways 13 min to NYC PRICED LOWER THAN SMALLER 2 BEDROOM UNITS INCREDIBLE BUY DON'T WAIT!
Amazing Renovations
The Re-brand of Cliffside Park high-rise integrates upscale urban aesthetics & sophisticated amenities.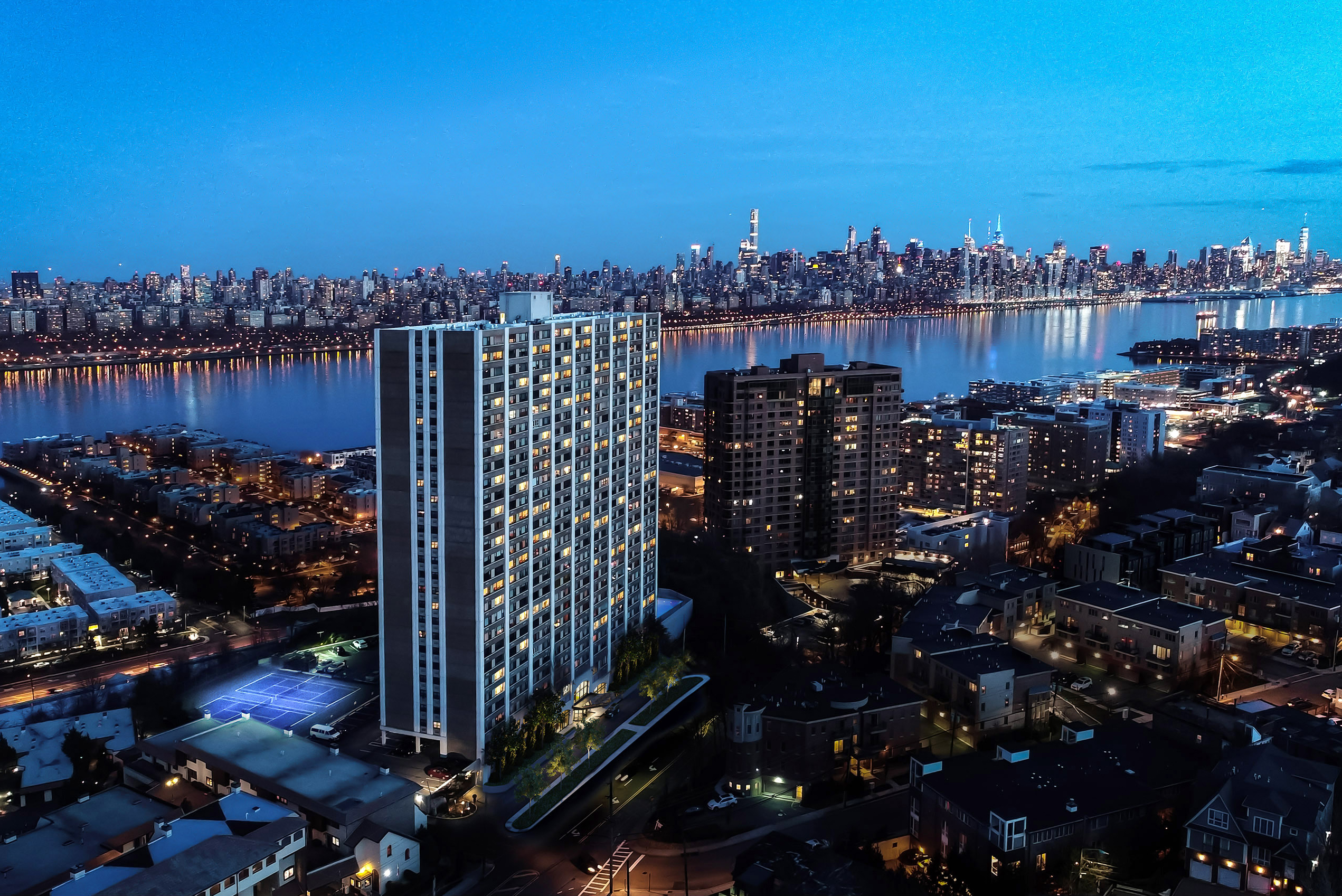 The recently completed final phases of a four-year, multi-faceted renovation of a 30-story cooperative on New Jersey's Gold Coast is simply astonishing.
The project transformed Apogee in Cliffside Park into an ultra-modern high-rise featuring a dramatic entrance way, revitalized lobby and resort-style amenities. Built in 1972 and atop a hill at 250 Gorge St., the property has panoramic views of the Manhattan skyline and Hudson River waterfront.
The renovation includes upscale aesthetics and a stylistic Manhattan feel to compete with the area's newer luxury properties. The comprehensive design strategy focused on exterior curb appeal and interior amenities to enhance the resident experience and increase shareholder value.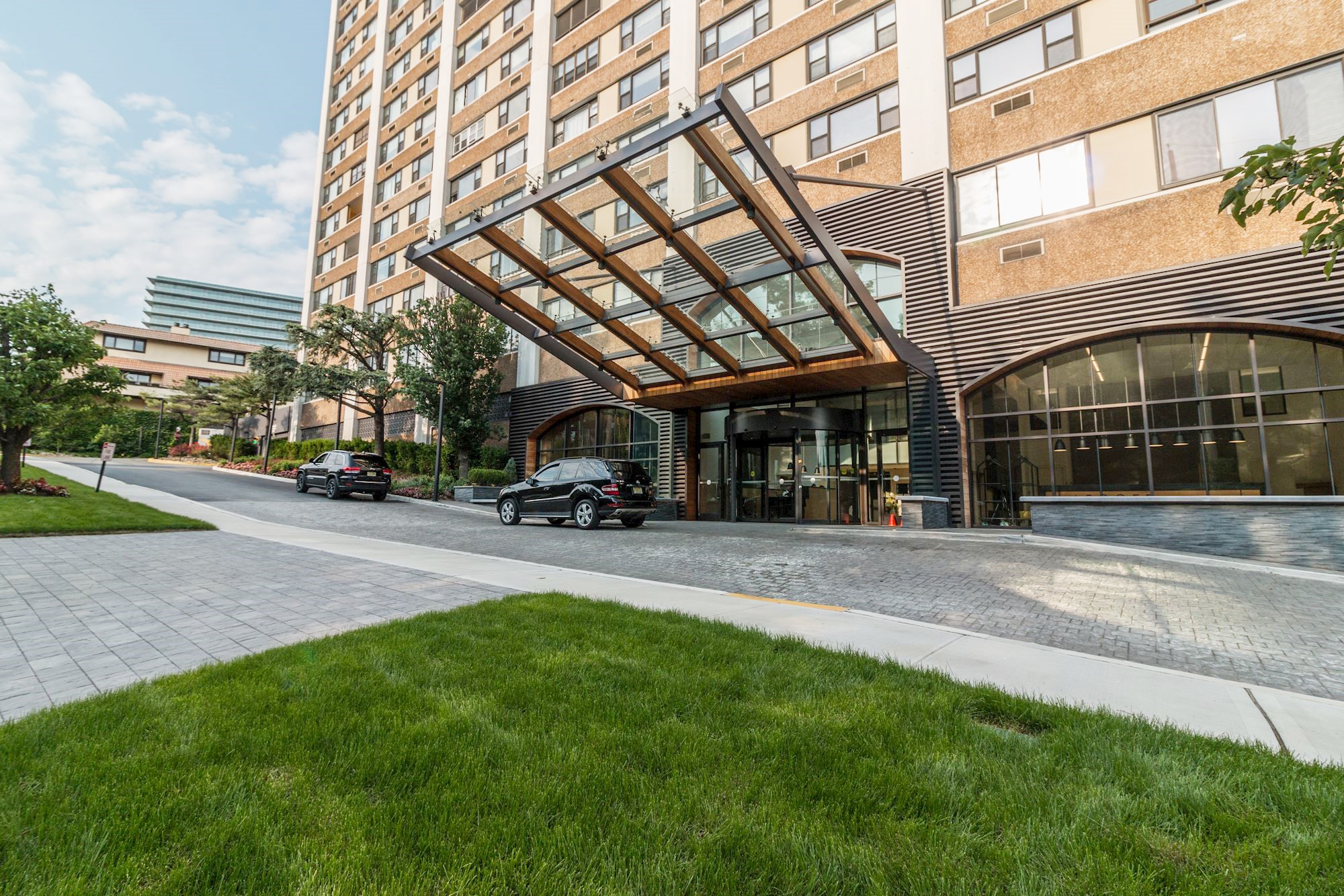 The existing canopy was replaced with a glass, metal and wood marquis, and added exterior enhancements including a new driveway highlighted by modern pavers and updated landscaping. Inside the building's revolving door, the lobby's terrazzo floor was seamlessly integrated with new features like custom furniture scaled to fit the expansive space and a redesigned front desk, relocated to serve as a centerpiece and increase concierge visibility. Introducing a large, two-sided fireplace as a divider and seating and gathering arrangements in warm, vibrant-colored materials created a sense of intimacy.
The lobby's most dramatic element is a four-sided, double-height living wall that is visible from inside and out.
Further enhancements included lowering the lobby's high window sills to afford views of the area's cliffs, and a revamp of a hidden corner mail room that showcases the boxes like vintage library card catalogs. The fitness center was relocated and expanded, and a children's playroom and management office were added.
Contact Rima North at 201-259-6315 or by email at rima@rimanorth.com for more information or to arrange a showing.